United States Senator Kyrsten Sinema had always been a force of nature. As a marathon enthusiast and dedicated public servant, she couldn't afford to slow down for anything. That's why when she fractured her foot during a speedy marathon, she was devastated. Her demanding schedule as a senator and her rigorous training regimen seemed threatened.
In the past, Senator Sinema had experienced the frustration of being immobilized by traditional crutches. But this time, she had an ace up her sleeve—the iWALK hands-free crutch. It was a recommendation from a fellow athlete, and she decided to give it a shot.
As soon as she donned  the iWALK, Senator Sinema felt a newfound sense of freedom. The device allowed her to maintain her intense work schedule with ease. She could stride confidently through the corridors of power, addressing constituents and making critical decisions while healing.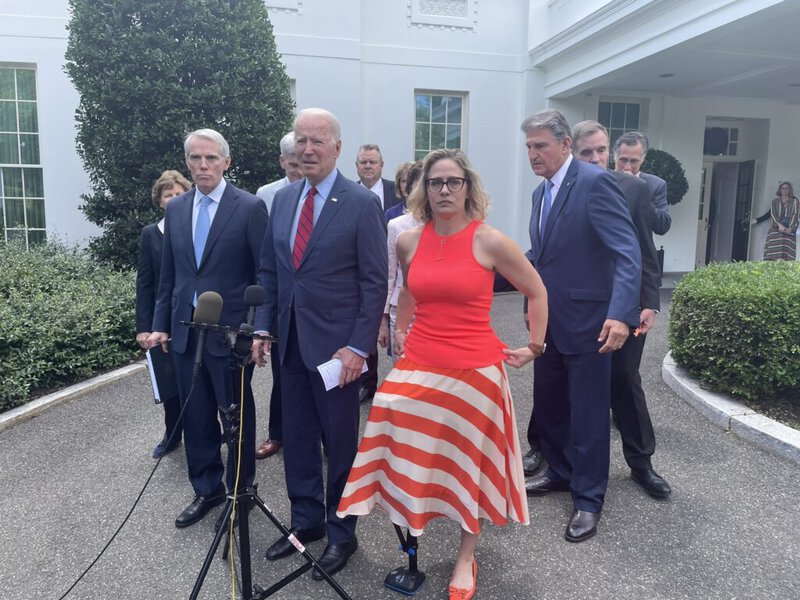 Senator Sinema was pictured beside President Joe Biden, while speaking about infrastructure negotiations outside the White House, Thursday, June 24, 2021, in Washington.
"I can't even imagine how hard life would have been without it," Senator Sinema admitted. "Such a crazy busy time."  On her Instagram page, Sinema said "Holy cow, it's a game changer"
The iWALK offered her unparalleled control and stability, allowing her to navigate her fast-paced life effortlessly. Her testimonial became a beacon of hope for others facing similar challenges.
Senator Sinema's journey was a testament to the power of innovation and determination. She couldn't be more grateful for the iWALK, and her story served as a reminder that even in the face of adversity, one could rise above it with the right tools and mindset.